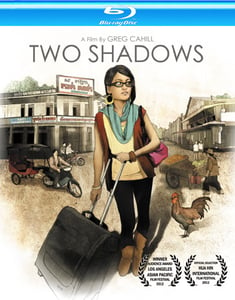 $

19.99 - On Sale
BLU-RAY includes SPECIAL FEATURES: Director Commentary, The Cambodian-American Story, The Making of Two Shadows, Trailer
Experience award-winning cinematography of Cambodia in stunning HD.
Winner of the Audience Award and Cinematography Award at the Los Angeles Asian Pacific Film Festival, Two Shadows launches Cambodian-American hipster wannabe Sovanna (SOPHEA PEL) into an unexpected odyssey of self-discovery. After she opens a cryptic letter from Cambodia claiming that her long-lost brother and sister are still alive, Sovanna travels to her birthplace alone to seek out her two siblings who disappeared during the civil war 20 years earlier. Upon discovering a girl who may or may not be her real sister, Sovanna is ensnared into an increasingly dangerous situation, pitting her in a tug-of-war between her own personal safety, and her compassion for a stranger.
2012 Rising Falcon Cinema. 94 min, NR, Color, Stereo, English & Khmer w/ English Subtitles, HD 1920x1080.